Fashion week, oh fashion week. As stressful and crazy as it is, I still manage to really enjoy all the hubbub. I was going through my notebooks from the shows and I realized that I wrote down what I did with my time for one day of NYFW. I though I would share it with you guys! So, here it is. What happens when a 16 year-old attemps to take on NYFW. (I'm warning you, it's not always glamorous.)
- It's early in the morning and I somehow have managed to splatter Starbucks hot chocolate all over my shirt while I'm in my fashion week outfit. This would only happen to me.
-I realize that I'm just a child. Fashion people don't spill things on themselves. Duh.
-Get to a showroom after roaming around the garment district trying to find their building.
-Notice that Vivienne Tam is in the same building. Resist the urge to stop in unannounced.
-Arrive at said showroom and notice that a lady in the office is wearing the awesome Prada creepers from the spring 2011 collection. Feel intense jealously.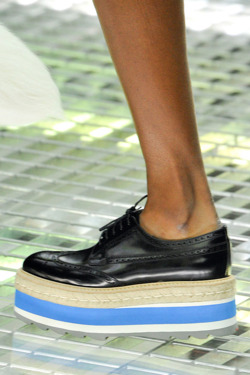 -See the some fantastic spring collections. I can't wait for spring to come! Color and prints everywhere.
-Walk to Lincon center after the showroom visit. Micheal Costello from Project Runway walks right past me. What the heck?
-Notice the Cynthia Rowely Glambulence at Columbus Circle and wait in line for at least 45 min before I get my hair done.
-I met some lovely people in that line. A woman from Moet Hennessy, a designer, and friend of Deborah Lippman. She tells me that Deborah is a fantastic Jazz Singer. Who knew???
-The hair stylist could tell I was Jewish because of my "Smooth hair and clear skin." I told him it was clinique. He thinks it's genes. Then, he proceeds to convince me to get Keratin treatment.

-I pick up some Cynthia Rowley for Band-aid Band aids. They're adorable! There are now one hundred little models on my thumb.
-I dash off to Lincon Center and view the festivities. I make a pretty cute tote bag at the Rowenta booth.
-Waris Ahuwalia walks past me. Is this real life?
- I feel sick from all the commotion and noise and sit outside on the fountain so I can get some air.
-See a lady walking by who is dressed in a ridiculous bathing suit with stripper heels and a Las Vegas headdress. It gets quiet as everyone just watches her walk by. I look at the woman next to me, she looks at me, and we both start laughing. It was awesome.
-I comment on the the Chanel nail polish that the woman on my right is wearing and we strike up a conversation. She works at NYLON magazine and we get some pictures together (hey
@itsmeAddieT!
).
-I remember that I actually have a show to catch and I get in a little late, but I get in line.
-I start talking to the girl next to me, and it turns out that she's sixteen as well! (Hi Ashley!)
-We notice that two Project Runway contestants are in line just ahead of us, Becky and Cecilia.
-The show manager says she wants us to fill some seats. Some blonde gitl in a mini dress trys to cut in front of me and I cut her off. I end up in the fourth row.
-The show is lovely, and the clothes are great. Nigel Barker and Robert Verdi are here, among others.
-I see one of my favorite models, Nimue Smit! And the up-and-coming model, Alex, who is my favorite new face of the season. Her talk is so ethereal. I took frantic notes during the show.
PS. Thanks to Rowenta for the photobooth!
-My dad says he didn't hate the show (it was his first fashion show) and he complains that he felt so under dressed. (Oh yes. My dad was there. This is the downside of being only 16.)
-I hit the train and go back home. I'm so tired and all I want to do is collapse, but there's work to be done.
- My dad got bored and borrowed a copy of The Daily from me. I get a brilliant shot. (He hates this picture. I love it.)
-Read as many blog posts and view as many new collections as possible before hitting the hay. Write a rant about color on the Spring Runways (which you can see here. haha)
-I realize that all the people who I meet during fashion week who tell me 'Hon, you'll go far in this business"may actually be telling the truth. Then I start feeling like Hannah Montana because I realize I'm in the city for fashion week one day, but I need to be back in time for school the next day because of chemistry test.
Well, I hope you enjoyed that 'day-in-the-life'. I'm so excited for February when I can do it all again! Also, the winner of our Qi Cashmere giveaway is... drum roll please... Brandy! Thanks so much to all who entered! Brandy, you'll be hearing from me.